Child's Play St. Davids
Meet the team
Child's Play is a vibrant, busy and happy setting based within St David's Primary School grounds, in its own demountable building in the West Cross area of Swansea. We are fortunate to have a wonderful environment which includes our own entrance way with intercom, an outside play area, two large airy classrooms, sleep room and kitchen.
Sam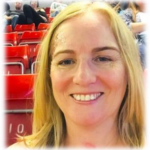 Samantha is the founder of Child's Play and a mum to three children, she has worked extensively with children from new-born up until 12 years.
She has an NVQ Level 3 in Childcare and Development and has been an invaluable classroom assistant, special educational needs support practitioner, children's transition officer and early years' developmental play worker during her career in childcare and education.
Sam's experience helps to shape our setting and creates a wonderful environment that children love to spend time in.
Kirsty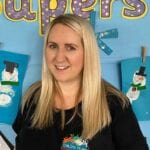 Kirsty is our general manager, she has many years' experience working successfully in childcare settings and as a nanny. Since joining Child's Play, we have been so impressed with Kirsty's professionalism that she was promoted to manager where her enthusiasm, expertise and caring nature shines through.
Lisa
Lisa is our setting manager has extensive experience in childcare management and previously worked as a team leader for Flying Start team. She is also our additional learning needs officer. She is qualified in CCLD Level 5.
Laura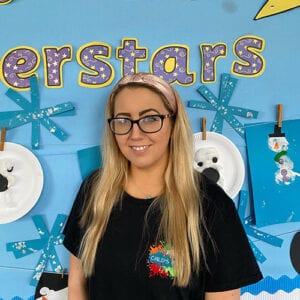 Laura is our Toddler Room Manager and has worked at Child's Play since 2017. She has completed a CCLD Level 3 certificate as well as playworks, baby room leader and child development birth to 5 years. She has been working in the Toddler Room for the last 2 years and due to her kind and caring nature was a natural choice to take on the role of Toddler Room Manager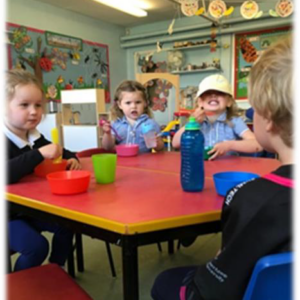 Early Bird Club | 7:30am – 8:30am
Early Bird sessions allow for a more relaxed start to the day at 7:30am until school begins.
Children aged 2-4 and nursery age join us in a fun, friendly and chilled environment. We like to give everyone a gentle start to the day with relaxing and laidback activities such as colouring, drawing, construction kits, chill out music and a story corner.
We set up an area for breakfast and you are welcome to send your child in with a healthy breakfast that they can eat at their leisure.
After Early Bird Club, we invite your children to stay for a fun packed Morning Playschool session.
Please remember that Child's Play is a nut free zone.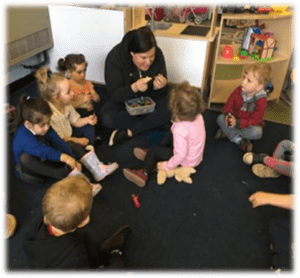 Morning playschool | 8.40am – 11.40am
We invite little ones from 2-4 years to enter our world of imagination and creativity in our morning playschool sessions. Our playschools follow the foundation phase curriculum and ensure that children's wellbeing is at the centre of all we do.
We create wonderful learning opportunities using our lovely, well-resourced base room and outside areas, including the adventure garden with access to bikes and trikes, sand and water, woodland walkways and a nature reserve.
After morning playschool, your child has the option to stay for our sociable lunch session, followed by afternoon playschool, then activity club or afterschool club.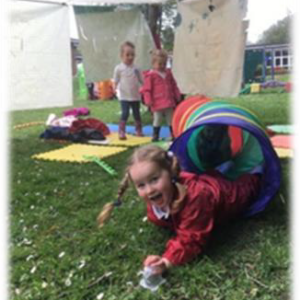 PM wraparound | 11.45am-3.10pm
We invite little ones from 2-4 years to enter our world of imagination and creativity in afternoon playschool. We create wonderful learning opportunities using our lovely, well-resourced base room and our outside areas.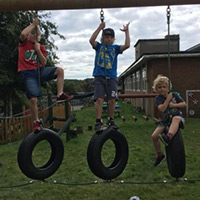 After school activity club | 3:20pm – 4:30pm
We have a range of exciting activity clubs running across the week including:
Monday – Cooking Club
Tuesday – Art Attack
Wednesday – Games Night
Thursday – Explorers & Investigators
Friday – Film Friday
After school club | 3:20pm – 5:50pm
Children automatically have the opportunity to join in with all activity clubs. Once the activity clubs have finished, children are served a snack and a drink to tide them over until teatime. Ongoing activities such as art and crafts, board games and outside play are always available.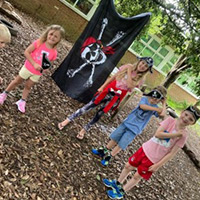 Holiday club | 8.30am to 5.20pm
We run a fun packed holiday club in St. Davids for part of each half term, Easter and summer holidays.
We have indoor and outdoor activities, fast and furious activities, arts and crafts, cooking each afternoon, then role play then finished off with a movie.
Session fees
For 2-12 year olds
Early Bird Club
7.30am -8.30am
£7 + drop off fee if applicable
Morning playschool
8.40am – 11.40am
£19.50
PM Wraparound
11.45am-3.10pm
£22.50
School day
8.50am -3.10pm
£37
Full childcare
7:30am – 5:50pm
£45
Activity club (2 – 12 years)
3:20pm – 4:30pm
£8+ collection fee if applicable
Afterschool club (2-12 years)
3:20pm – 5:50pm
£12 + collection fee if applicable
Holiday club full day (2-4 years)
8.30am – 5.20pm
£34
Holiday club full day (5-12 years)
8.30am – 5.20pm
£27
Session fees
Toddler Room prices for 1-2 year olds
AM Half Day
7.30am -12.30pm
£27
School Day
8.30am – 3.15pm £39.50
Full Day
7.30am -5.50pm £47.50
Extra services
Pick up (Internal/walking)
£2
Pick up 30-hour offer (Internal/walking)
£1.50
Transport pick up (Car)
£3.50
Casual / one off bookings
Please note, we are no longer able to offer casual bookings as a separate tariff. Instead there will be a 20% fee applied to the regular charge for each session. All casual bookings are subject to availability.
Administration charges
Registration fee
£15 per family
Amendment to bookings (Without 14 days' notice)
£10 per change
Fee for yearly records (tax credit/student finance)
£10
There is a 2-week notice period required to amend regular bookings or take a holiday, and a 28-day notice period to cancel bookings completely. With casual bookings we have a 48-hour cancellation policy.
Contact us
Get in touch with us today with any questions you may have regarding our childcare, or if you're ready, fill out a registration form and return it to us via email or in person. Download registration form Download St David's booklet 07708 315 118  [email protected]
St.Davids Primary School, West Cross Avenue, West Cross, Swansea SA3 5TS
Registration number: CYM00003435